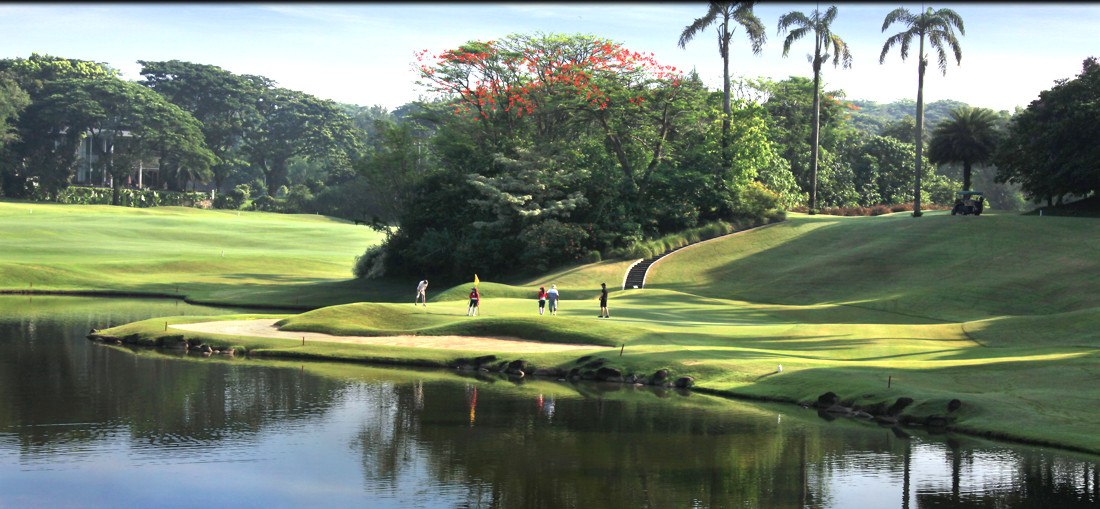 Two Courses and Two Different Spirits in Two Different Locations
We invite you to visit our two extra ordinaries courses, Bumi Serpong Damai (BSD) course,
designed Jack Nicklaus, and Pantai Indah Kapuk (PIK) course, designed by Robert Trent Jones Jr.

BSD COURSE - HOLE 13

HOLE 13

| | | | | | |
| --- | --- | --- | --- | --- | --- |
| PAR | INDEX | RED | WHITE | BLUE | BLACK |
| 5 | 9 | 403 | 466 | 496 | 518 |

This is the type of par 5 that can play very simply or it can be like a row of dominoes. One mistake can trigger one disaster after another. The drive is a simple one; just avoid the two fairway bunkers guarding the left side of the landing area. If the second shot is hit from the fairway, the first set of cross bunkers should not be difficult to carry. If the drive finds one of the fairways bunkers, then the cross bunkers can became a frightening hazard. This same situation accurs for the third shot. The green is a relatively simple target from the fairway, and the cross waste bunker short of the green should not cause a problem when hitting the green. The cross waste bunker can be hazardous if the golfer is trying to hit over it from the first set of cross bunkers, or is trying to hit out of it to the green. Therefore, if anywhere during the hole the golfer ends up in a fairway bunker, he might want to consider chipping out short, and taking his chances for a sure bogey instead of trying a heroic shot to save par.



PT. Damai Indah Golf Tbk.
Jl.Bukit Golf I, Sektor VI
Bumi Serpong Damai,
Serpong ,Serpong
Kota Tangenrang Selatan
Banten