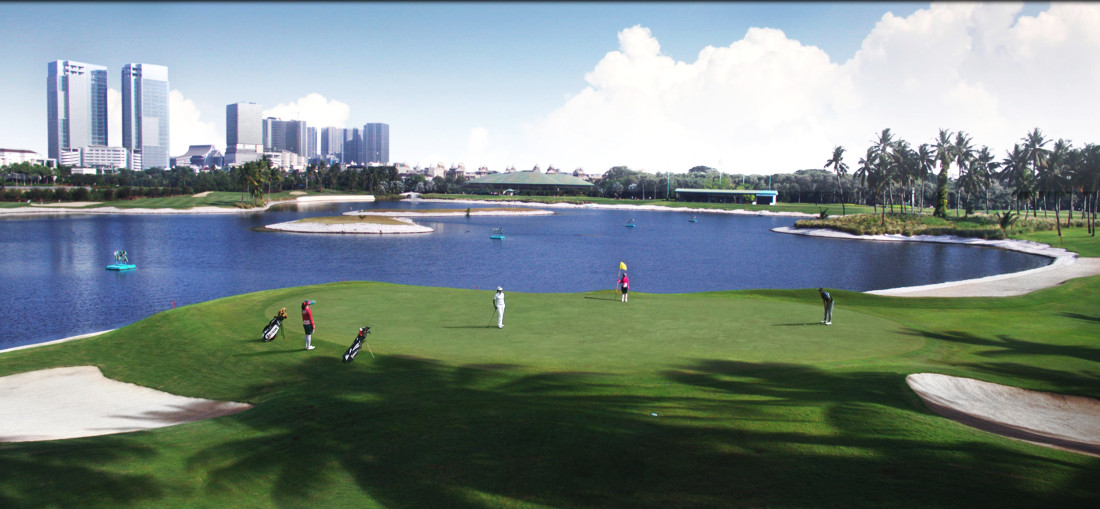 Two Courses and Two Different Spirits in Two Different Locations
We invite you to visit our two extra ordinaries courses, Bumi Serpong Damai (BSD) course,
designed Jack Nicklaus, and Pantai Indah Kapuk (PIK) course, designed by Robert Trent Jones Jr.

Our Courses


Pantai Indah Kapuk (PIK) Course

Pantai Indah Kapuk(PIK) course is one of one of Damai Indah Golf's course that is located along the Java Sea coastline that incorporates relaxing pools and gently winding dtreams as strategically positioned water hazards and bunkers, and rustic fieldstone walls made of indigenous stone. The "Spirit of the Sea" has been designed to offer enriching new perspectives within this unique 72-par, 6,048-meter golf course by skillfully integrating the natural beauty of the coastal wetlands to create playable golf rich with strategic variety.

Pantai Indah Kapuk's Course idyllic location by the sea present the unique opportunities to incorporate the Java Sea into lakes and waterways that virtually surround every golf hole.

Ir. Ciputra the brainchild of well-known Indonesian real estate developer and business baron, decided to add white sand beach bunkers to this seaside course to lend to the challenge and setting. The development design is so innovative that it was awarded the 1992 Gold Nugget Award for Site Plan of the Year by Pacific Coast Builders Conference. Judges called the plan "very dramatic, very aggressive.


"Dramatic marshlands, native trees and water will create scenic vistas and challenging hazards. I want the experience of golfing at Pantai Indah Kapuk to wash away the cares of all who step onto the course, so that they are free to enjoy their game."
----- Robert Trent Jones Jr
| | | |
| --- | --- | --- |
| | | |
| | | |
| | | |
PIK Course Characteristic

HOLE 1

447m Par 5

APPROACH
This green is very long, up to four clubs. Check your distance carefully and aim right of the pin, as it slopes to the left.

SECOND
The two right side bunkers are close to the green. The fairway bulges out to the right, so take a line on the right side of the right hand bunker, and this will leave a pitch down the axis of the green. For those attempting two on, beware of the water running down the left side and along the left border of the green. The greenside bunker only runs one third the length of the green, with a grass verge behind it. Be aggressive and long, and keep to the right section of the green, so that a miss will still leave an open chip.

TEE SHOT
Play to the left edge of the right side fairway bunker. This bunker borders the right side for about 30 meters and can be reached by most golfers. Long hitters should not be tempted to cut the mild left dog leg as there is no real advantage, and the ball could easily catch the thicker left rough, leaving no chance for two on.

HOLE 2

349m Par 4

APPROACH
This is up hill and will require one extra club. The green is 3 clubs long, so check the pin posotion. A miss to the right will leave an easy uphill chip, but a pull left can find the deep greenside bunker with the green sloping away from you. If you miss the green, be short, right, or long - not left.

TEE SHOT
Aim for the middle fairway bunker, which cannot be reached. Both the left and right side bunkers can be reached by most players.

HOLE 3

103m Par 3

TEE SHOT
Although this hole is short, the surrounding fringe slopes down to bunkers on all sides, the green is heart shaped - wider at the rear, so it is safer to hit a little past the flag, unless it is at the very rear.

HOLE 4

282m Par 4

APPROACH
Approaches pulled left can find the water or bunker bordering the green. The green widens out to the rear with a grass bank behind, and the right side bunker extends only two thirds back. There is only a narrow finger of fairway in front, so a safe approach is long and to the right. However with the green also sloping right to left, this will leave a downhill chip with bogey the likely outcome. For those who want to attack for birdie, leave your shot left and short of the pin to leave an uphill putt.

TEE SHOT
Play to the left of the second right side fairway bunker. The fairway narrows in at this point and starts sloping down to the water on the left. It is best to lay up just short of this bunker with an iron or fairway wood to leave a second shot from a flat lie which is still only about 110 meters from the green.

HOLE 5

287m Par 4

APPROACH
This is up hill and will require one more club. The green is long and thin with bunkers left and right. Your shot needs to be straight, and take into the extra distance required for elevation and pin position down the green.

TEE SHOT
Play to the left of the third right side fairway bunkers.

HOLE 6

417m Par 5

APPROACH
An approach from the left side will open up the pin if it is on the right. If you find your self hitting from the right side of the fairway, play a little long to be safe.

SECOND
The fairway narrows in between the front bunkers, with the front edge of the left bunker closer to the player. For most it is best to lay up short of the left side bunker for a short approach of about 40 metres in to the pin. For those attempting two on, it is best to hit long and even a little to the right, as the right side bunker only extends one third the length of the green with grass behind it. Bunkers line the entire length of the left side.

TEE SHOT
Aim to to the right of the left side fairway bunker. This can only be reached by long hitters, while the shorter, right side bunkers can be reach by most.

HOLE 7

125m Par 3

TEE SHOT
Water borders the front right side, and rear of this hole. There is a small pot bunker behind the green on the right which is not visible from the tee. The safe shot is centre left. To the left of the green is a grass mound which will deflect balls right to the green. If you pull too far left you will find yourself in long grass.

HOLE 8

317m Par 4

LAY UP OPTION
If you are a short hitter, lay up 50 meters in front of the bunkers, as the fairway narrows in after this point,. This will leave you an easy pitch.

APPROACH
Is usually into the wind and uphill. Many people fall short into the front bunkers. The green widens to the rear which is free from danger, so it is best to hit long on your approach.

TEE SHOT
Hit to the right of the left side bunker. The right side bunkers can be reached.

HOLE 9

335m Par 4

LAY UP OPTION
Take a line on the refreshment kiosk behind the green if you want to lay up. A chip from here is to an open green.

APPROACH
This is a long shot in to the green protected across the front and right border by water. Aim long and left of the pin, especially as you will be playing from a slicing lie with the wind coming in to you from the left. The ground is open behind the the green and leaves an easy chip if you miss the target.

TEE SHOT
The right side bunker can be reached, but the water is out of range for most. The best line up the left side, where the ball will bounce right on landing.

HOLE 10

351m Par 4

GREEN
The green cups in to the center from both sides it is long and slopes gently up to the rear.

LAY UP OPTION
Lay up short of this left side bunker, especially if the pin is tucked behind the right side bunker. Keep to the right side of the fairway if the pin is on the left.

APPROACH
Aim for the left side of the green, as the left side fairway bunker is about 30 metres short of the green and poses no threat. There is a narrow finger of green at the front to the left side of the greenside bunker. The right side bunker only extends 30% down the length of the green, so if the pin is at the back, keep your approach long for safety.

TEE SHOT
Aim for the right side of the distant left side bunker which is out of range. The right side fairway bunkers are within range for most players.

HOLE 11

346m Par 4

GREEN
Slopes from right to left and gently down to the rear.

APPROACH
Aim for the left side of the green, as it slopes down in front and to the right towards the water. There is a narrow finger of fairway into the left side of the green for missed shots. The green is long and slopes to the rear.

TEE SHOT
There is water on the right, so a safe shot is up the left side of the fairway, where a slight error will only finish in the short cut left rough.

HOLE 12

129m Par 3

TEE SHOT
The green is very wide, running diagonally away from you to the left. It is divided from front to back by a swale on the right side causing causing balls to run across the green to the right and left of it. All the trouble is at the front left side bunker. If the pin is short and on at the right side, a safe miss is right to the finger of fairway short of the green. The rear bunkers are at least 20 metres behind the green, so if the pin is middle left, it is best to be one club longer, as any ball going through the green leaves an easy chip back.

HOLE 13

416m Par 5

GREEN
The green is long and initially slopes away from the front, the rises to a plateau at the rear.

APPROACH
Keep to the left side of the pin for safety, unless the pin is on the extreme left.

SECOND SHOT
Most players should lay up short of the first left side bunker which is near the green. This will leave only a 40 metre pitch to the green, and will open up the green especially if the pin is on the right side long hitters can easily reach this green for two, but aim just to the right of the left side bunker and let the breeze and slope move your ball to the right. Only attempt two on if you are sure that you can carry it all the way, as there is a steep down slope in front of the green which runs off to the right and the water.

TEE SHOT
The left side bunker is long and thin and in range, with the closest part of visible from the tee, keep to the right of it and on landing the ball will roll right with the slope. Water is on the right, but only a danger for wild the shots.

HOLE 14

274m Par 4

GREEN
Very long left to right, with a ridge, running vertically front to back on the right side. The green slopes down left and right from this ridge, but cups up again at the extreme left lip.

APPROACH
The green is wide and shallow and protected by a large bunker front and left, leaving only a narrow finger of fairway into the green on the right. It is raised all round and requires good distance control. The green is very shallow on the left but deeper on the right , so right side is the safest option.

TEE SHOT
Avoid the cluster of right side fairway bunkers.
It is best to be on the left side of the fairway, which sits on a lower and level plateau ( the right side slopes down away from the bunkers). The bushy grass in the left rough is out of range for most players. Aim for the right side of the left greenside bunker.

HOLE 15

171m Par 3

LAY UP OPTION
Short hitters should lay up short of he right side bunker to leave an easy chip down the axis of the green.

TEE SHOT
Water runs in front and all along the left side of this green. Anything left is dead. The green is there clubs long, much deeper than it appears from the tee. Make sure you have sufficient club, especially if the pin is at the rear left

HOLE 16

305m Par 4

APPROACH
This is usually, in to the prevailing wind, and requires 1 - 2 clubs more that the distance indicates. The ground falls away left and right from the green , so safe misses are only to the front and rar. The green is long and behind it is open, so if the pin is at the back, be aggressive especially if the wind is into you.

TEE SHOT
The second fairway bunker cuts into the centre of the fairway and can be reached by most good hitters. The safe option is to lay up short to its left edge, and this still only leaves about 115 metres to the center of the green. Long hitters can fly the corner of this bunker, but be aware that the fairway narrows to half its size past the bunker.

HOLE 17

492m Par 5

APPROACH
There is water all around the right side, so shots to the left of the pin are best unless the pin is on the extreme left side. The green slopes towards you and is three sticks long, widening to the rear. The left greenside bunker only extends one third of the depth of the green, with a grass hollow behind. It is safer to be long on your approach shot, and slightly left.

LAY UP OPTION
IIf you are a slicer, it is safer to lay up short of the bunker to avoid bouncing right and running into the water on the right.

SECOND SHOT
Aim to the right edge of the left side fairway bunker, and your ball will roll right to the narrow fairway. This will leave an easy third shot of 125 meters to the center of the green.

TEE SHOT
Keep to the right of the second left side fairway bunker. This is in range for most players.

HOLE 18

351m Par 4

APPROACH
Anything to the right will find the water, which runs along the front and right side of the green. Short hitters should consider laying up short of the left side bunker. The left side bunker only extends one third the length of this long green, and the green widens at the rear. Unless the pin is at the front, it is best to hit long and slightly left, as a miss will find open ground and an easy chip to the pin'

LAY UP OPTION
Lay up short of this bunker. It will leave a short chip along the axis of the green, and even allow a chip and run if the flag is on the right side near the water.

TEE SHOT
There are two options from the tee. Average hitters should aim right of the left side fairway bunkers. The green is still reachable for the second shot. Longer hitters can attempt the water carry to the right finger of fairway. This will leave a more direct approach to the green. Be aware that the left and right fairways run parallel for about 30 meters, so any player who may only just clear the water carry should consider playing down the left side fairway, as he will not be penalized with distance.

PIK Course Score Card

| | | | | | | | | | | |
| --- | --- | --- | --- | --- | --- | --- | --- | --- | --- | --- |
| Hole | 1 | 2 | 3 | 4 | 5 | 6 | 7 | 8 | 9 | OUT |
| Par | 5 | 4 | 3 | 4 | 4 | 5 | 3 | 4 | 4 | 36 |
| Index | 16 | 4 | 8 | 10 | 14 | 18 | 12 | 6 | 2 | |
| Black Tee | 498 | 409 | 154 | 351 | 340 | 463 | 159 | 382 | 397 | 3.153 |
| Blue Tee | 473 | 385 | 130 | 320 | 322 | 441 | 141 | 352 | 369 | 2.933 |
| White Tee | 447 | 349 | 103 | 282 | 287 | 417 | 125 | 317 | 335 | 2.662 |
| Red Tee | 421 | 294 | 93 | 250 | 262 | 392 | 98 | 291 | 305 | 2.406 |
| Yellow Tee | 399 | 294 | 93 | 250 | 262 | 358 | 98 | 291 | 305 | 2.350 |

| | | | | | | | | | | | |
| --- | --- | --- | --- | --- | --- | --- | --- | --- | --- | --- | --- |
| Hole | 10 | 11 | 12 | 13 | 14 | 15 | 16 | 17 | 18 | IN | TOTAL |
| Par | 4 | 4 | 3 | 5 | 4 | 3 | 4 | 5 | 4 | 36 | 72 |
| Index | 3 | 7 | 11 | 17 | 15 | 5 | 13 | 9 | 1 | | |
| Black Tee | 420 | 409 | 191 | 463 | 328 | 216 | 380 | 557 | 416 | 3.380 | 6.533 |
| Blue Tee | 390 | 385 | 171 | 444 | 303 | 200 | 345 | 531 | 382 | 3.151 | 6.084 |
| White Tee | 351 | 346 | 129 | 416 | 274 | 171 | 305 | 492 | 351 | 2.835 | 5.497 |
| Red Tee | 322 | 301 | 114 | 384 | 250 | 137 | 273 | 451 | 332 | 2.564 | 4.970 |
| Yellow Tee | 322 | 249 | 80 | 328 | 250 | 96 | 237 | 451 | 302 | 2.315 | 4.665 |



PT. Damai Indah Golf Tbk.
Jl.Bukit Golf I, Sektor VI
Bumi Serpong Damai,
Serpong ,Serpong
Kota Tangenrang Selatan
Banten