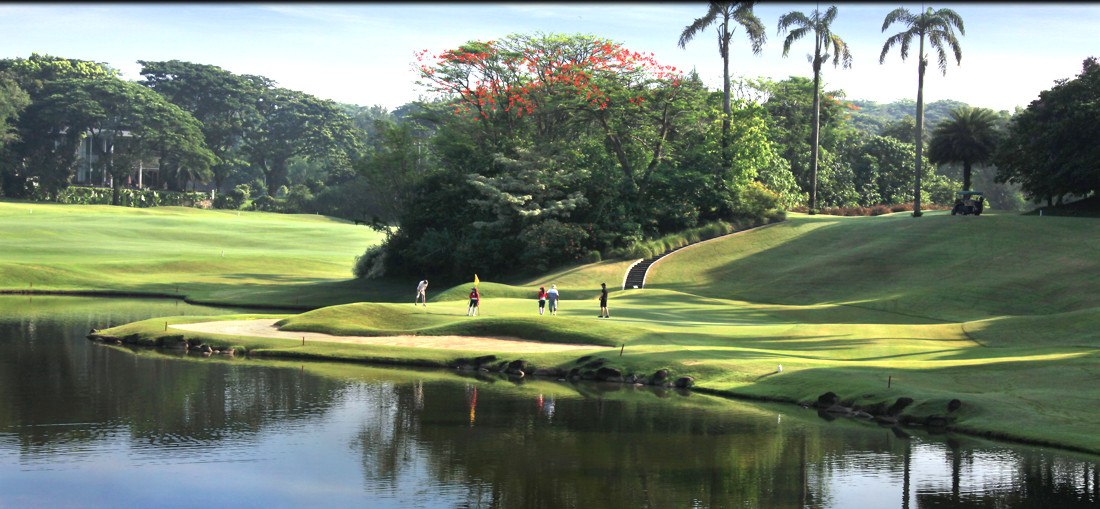 Two Courses and Two Different Spirits in Two Different Locations
We invite you to visit our two extra ordinaries courses, Bumi Serpong Damai (BSD) course,
designed Jack Nicklaus, and Pantai Indah Kapuk (PIK) course, designed by Robert Trent Jones Jr.

BSD COURSE - HOLE 15

HOLE 15

| | | | | | |
| --- | --- | --- | --- | --- | --- |
| PAR | INDEX | RED | WHITE | BLUE | BLACK |
| 4 | 7 | 316 | 347 | 372 | 389 |

After having to negotiate sand and water through the first 14 holes, the golfer will immediately notice that there is no sand or water on this hole. The golfer should not let down his guard though, because there are many subtle treacheries that could wreak havoc with a golfer's score. The golfer needs to avoid the large grassy hollow alongside the right side of the fairway. "Catchcers mitts" will snare any tee balls hit too far to the left avoiding the grassy hollow to the right or while trying to reach the part of the fairway offering the best angle into the green. The convex green sits on top of a hill. A crisply struck, spinning fade is the best shot for holding this green. Closely mowed fairway surrounds all but the right side of the green. Therefore, a shot missing the green or rolling of it will result in a multioptional chip shot to get the ball up and down for par.



PT. Damai Indah Golf Tbk.
Jl.Bukit Golf I, Sektor VI
Bumi Serpong Damai,
Serpong ,Serpong
Kota Tangenrang Selatan
Banten