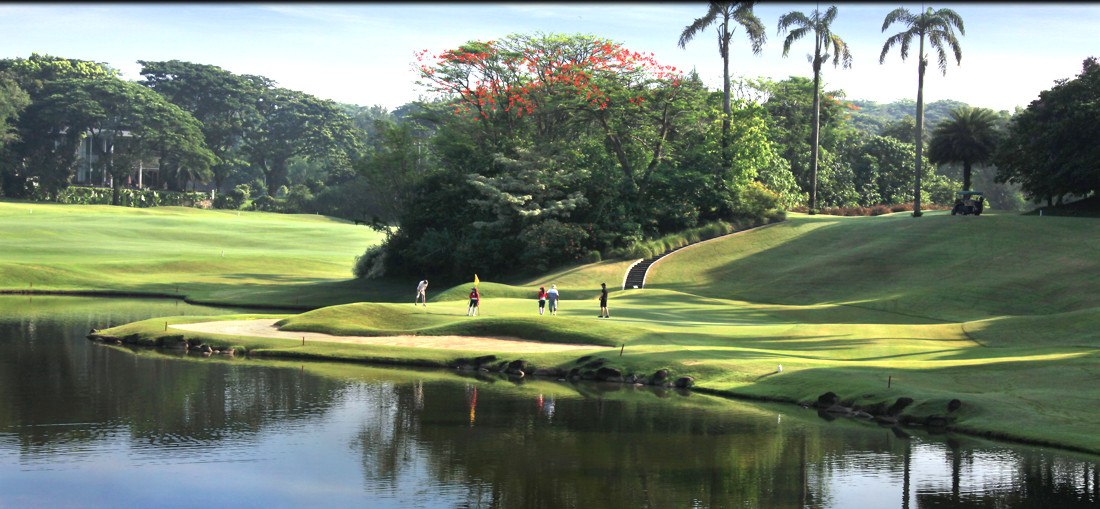 Two Courses and Two Different Spirits in Two Different Locations
We invite you to visit our two extra ordinaries courses, Bumi Serpong Damai (BSD) course,
designed Jack Nicklaus, and Pantai Indah Kapuk (PIK) course, designed by Robert Trent Jones Jr.

BSD COURSE - HOLE 8

HOLE 8

| | | | | | |
| --- | --- | --- | --- | --- | --- |
| PAR | INDEX | RED | WHITE | BLUE | BLACK |
| 5 | 6 | 420 | 430 | 481 | 491 |

The second of the par 5ís, #8 requires a well-placed drive.Beware of the water guarding the right side of the fairway on the tee shot. A drive played too cautiously to the left will leave a long second shot over a long sandy waste bunker along the left side of the fairway and the crossing in front of the second landing area. The best tee shot will be played down the right side so that the ideal second shot can be played to the left side of the fairway or possibly hit to the green if the drive is long enough. The green is convex-shaped in the front with the back half draining right to left. Therefore, the third shot, if hit from right of center, will be difficult to hold.



PT. Damai Indah Golf Tbk.
Jl.Bukit Golf I, Sektor VI
Bumi Serpong Damai,
Serpong ,Serpong
Kota Tangenrang Selatan
Banten