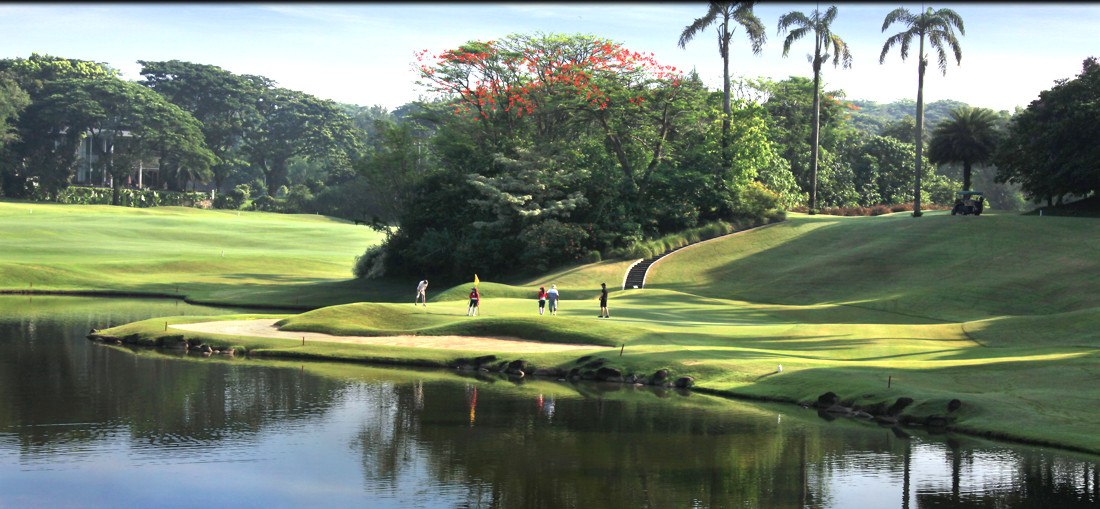 Two Courses and Two Different Spirits in Two Different Locations
We invite you to visit our two extra ordinaries courses, Bumi Serpong Damai (BSD) course,
designed Jack Nicklaus, and Pantai Indah Kapuk (PIK) course, designed by Robert Trent Jones Jr.

BSD COURSE - HOLE 9

HOLE 9

| | | | | | |
| --- | --- | --- | --- | --- | --- |
| PAR | INDEX | RED | WHITE | BLUE | BLACK |
| 4 | 2 | 349 | 376 | 398 | 414 |

The is a long, difficult par 4. Offthe tee beware of the sandy waste bunker to the right. Due to the length of the hole, the golfer will want to hit the tee shot long, and down the left side of the fairway to be able to hit into the full depth of the green for the second shot. Beware of the fairway bunker that guards againts a ball hit too far to the left off of the tee. The large green offers a good target for a fairway wood or long iron into the green. The green is well protected by a bunker in front, water to the right, and more sand behind. The only safe alternative to a shot hit directly at the green is to the left.



PT. Damai Indah Golf Tbk.
Jl.Bukit Golf I, Sektor VI
Bumi Serpong Damai,
Serpong ,Serpong
Kota Tangenrang Selatan
Banten